Introduction
In the Year 2017, Bitcoin and cryptocurrency become so phenomenal that Pros and cons happen at various parties. it is undeniable if bitcoin becomes a paradigm and changes a person's life financially. If you are one of the investors or bitcoin traders really hope bitcoin remains long life and you can still take advantage. and this goes for the day trader or holder. Bitcoin prices are becoming more expensive to everyone's expectations. but unfortunately, when entering the year 2018 Bitcoin and Cryptocurrency others experience a storm and down to 60% or even more.
Bitcoin creates bubbles that become hubbub all over the world. Yes, and the bad news greatly affects the price of bitcoin and cryptocurrency. various information is very difficult to accept because FUD is more dominant. For some people,  Bitcoin and Cryptocurrency would be assumed is only a nightmare, Fomo and harming many parties.
Especially if you are a newcomer. Volatile and fluctuating prices make you hesitate in making decisions if you suffer losses. Maybe some people take the decision to cut losses or provide capital for backup. For traders and investors, information is the main capital in making decisions, and for that Cryptassist is present to bridge the information gap in the world of cryptocurrency. The Cryptassist platform is a one-stop destination for all your cryptocurrency related information. Whether you are a beginner or crypto established expert, Cryptassist will provide you with the necessary tools and information for you to succeed and greater profit potential.
Cryptassist Platform Solve Trading Issue
Indeed, many traders are often carried by Fomo and other news that even make them trapped. maybe they did not want to be left behind from the news that there is a tap instead to make them trapped. therefore, a valid Info is required. And Cryptassit becomes your trading solution certainly,
Why? Because the Cryptassist Trade Solutions Application is a revolutionary cryptocurrency trading tool that will help you as well as arm the day traders with the same data that multinationals routinely pay millions of dollars to earn.
For example, As the stock market continues to rise, many investors and traders are desperate to buy at high prices in cryptocurrency as well. despite not knowing at all what cryptocurrency is and hoping to get rich suddenly like someone else who has already bought it. Fluctuating prices are so interesting with the hope that you will get an instant profit. But as a trader, you should do a first-ditched analysis of the loss.
Through the Cryptassist Platform, you will find an enhanced algorithmic trading system and strategy. Coupled with the analysis of each user-specific profile, the app will warn the merchant when a coin matching their criteria is considered to indicate strong buy or sell potential. In addition to solving problems and providing solutions in trading, Cryptassis is a unique platform because it will allow traders to access special trading statistics and metrics that are not available elsewhere. Another advantage is that CTA can be used to access tools and notifications as well as to upload to their debit cards, along with top 50 cryptocurrencies.
Cryptassist creates a CTA of its own to be used as a paid service in every warning. Through CTA, users have the power to access large amounts of information. they can enter their CTAs into queues that can send notices to the merchant when the coins indicate strong buy or sell potential based on technical analysis and user-specific trading profiles. Well, with a warning will allow traders to make decisions when they are trading. Now, you can say goodbye to FOMO, because it can have serious consequences for us as traders to form objective decisions in trading.
Token Sale Details
Ticker: CTA
Price: $0.05 USD
Hard Cap: $236.25 M USD
Soft Cap: $36.98 M USD
Duration of ICO: June 28th – August 11th 2018
ROADMAP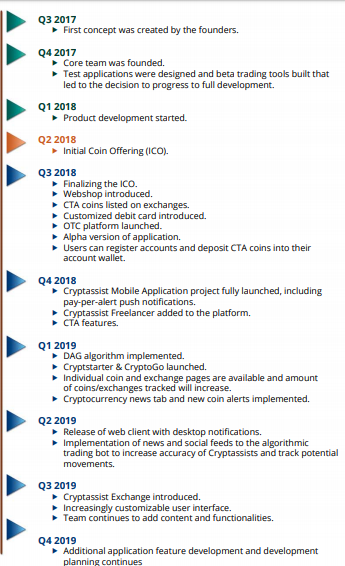 TEAM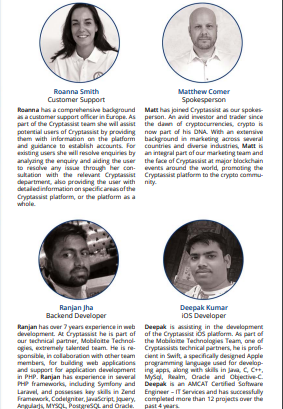 More Information Click Links Below:
Website
Whitepaper
Ann Thread
Telegram
Author
Username: marcous
Bitcointalk Profile: https://bitcointalk.org/index.php?action=profile;u=378857
Telegram Username: @niaShaa
Please follow and like us: